E

S

G

/

S

D

G

s

M

a

t

r

i

x

a

n

d

F

i

v

e

K

e

y

C

h

a

l

l

e

n

g

e

s
To achieve sustainability, we have arranged a series of specific issues into an ESG/SDGs Matrix. We conduct annual reviews of the progress toward each goal and disclose the results of these to the public. Among these, we have re-evaluated issues listed that are highly relevant to our business activities and for which its stakeholders have high expectations. In this re-evaluation, we selected five key challenges from three topics: solving social issues, achieving sustainable business growth, building an internal foundation. We have established KPIs for each and are taking priority action toward these.
Click here to explore our ESG/SDGs matrix (Japanese only)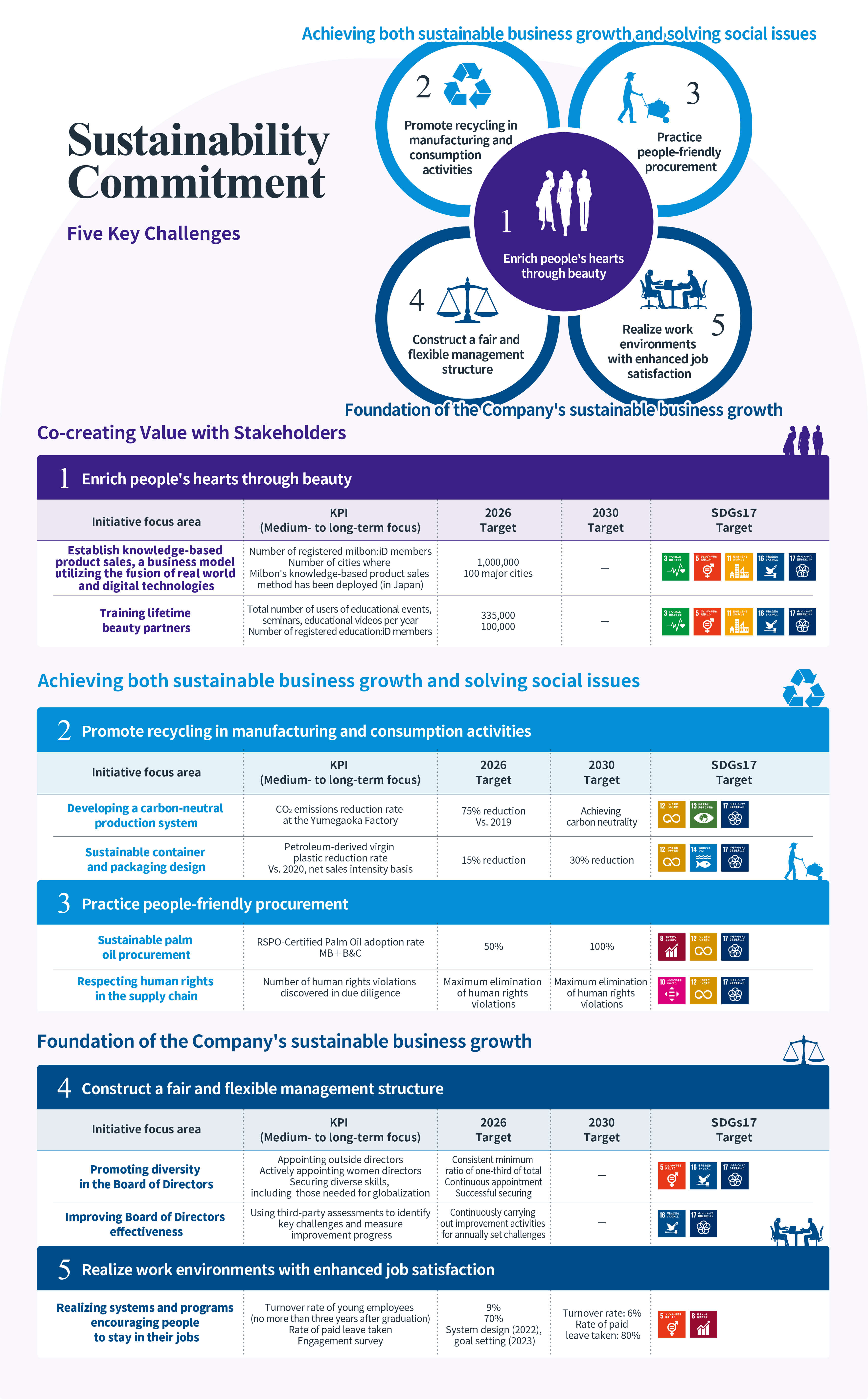 Key Challenges: Enrich People's Hearts through Beauty
The concept of beauty is different between and intertwined with each region and culture.
Milbon genuinely believe in the power of beauty, regardless of the difference in its form, definition, and trait. To be beautiful is what empowers us to step out into society confidently and vibrantly.
A hairstylist is a person who can build a close relationship with each individual customer and bring out their own, unique beauty. It is Milbon's most critical mission to provide a wide range of services and products so that hairstylists and salons can broaden their reach in society. To this end, we consider this a focus in our key challenges.
Goal 1: Establish knowledge-based product sales*1 business model utilizing the fusion of real world and digital technologies
With the aim that salons and their customers forge new relationships by harnessing digital technologies, we are committed to spreading "milbon:iD,*2"a platform linking hairstylists with customers, throughout society.
Knowledge-based produc sales: A sales method where products are sold alongside valuable information founded in the knowledge and insights of hairstylists.
milbon:iD: Milbon's official online store where customers can purchase salon-exclusive hair care items through salon consultation.
2020

2021

2022

2026

2030 Target

Number of registered milbon:iD members

27,000

169,000

448,000

1,000,000

―

Number of major Japanese cities where Milbon's knowledge-based product sales method has been deployed
(*Number of cities with Smart Salons)

―

―

―

100

―
Goal 2: Training lifetime beauty partners
In order to cultivate lifetime beauty partners, hairstylists who can be attentive to the lifelong needs of their customers, Milbon provides hairstylists with a wide variety of learning opportunities, both real and digital.
| | 2020 | 2021 | 2022 | 2026 | 2030 Target |
| --- | --- | --- | --- | --- | --- |
| Total number of users of educational events*3, seminars, and videos | 163,000 | 210,000 | 187,000 | 335,000 | ― |
| Number of registered education:iD*4 members | ― | 8,700 | 23,000 | 100,000 | ― |
Educational events: Learning opportunities provided by Milbon to hairstylists. From beauty techniques and knowledge to career development, these come in a range of formats, including seminars, events, and online platforms.
education:iD: An online, membership learning tool for hairstylists.