This section presents Milbon's stance and initiatives on human rights–fundamental in a society full of diverse people–and on employees.
Milbon Human Rights Policy
Milbon has established the Milbon Human Rights Policy as a guideline for fulfilling our responsibility to respect human rights, which are fundamental rights, throughout our corporate activities. It is founded in the United Nations Guiding Principles on Business and Human Rights and constitutes the basis for our promotion of initiatives to respect human rights.
Click here for the full text of the Milbon Human Rights Policy
The Milbon Way: A Guideline for Employees in a Single Handbook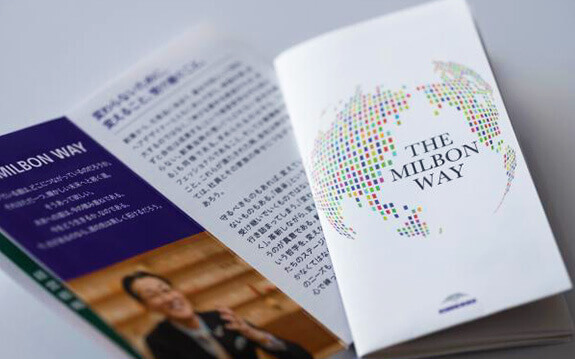 The Milbon Way is a handbook containing the mission and the core values essential to being a Milbon employee. All of our employees carry a copy of The Milbon Way, which offers a summary of action guidelines, our Management Ideology, and our future vision–values that employees are expected to share. It was compiled by the current president, Ryuji Sato, in 2012 and has been revised in line with the times based on the theme of "continuity and change." This handbook ensures that the values are passed on to Milbon employees over the years.
Specific Initiatives for Human Rights and Employees