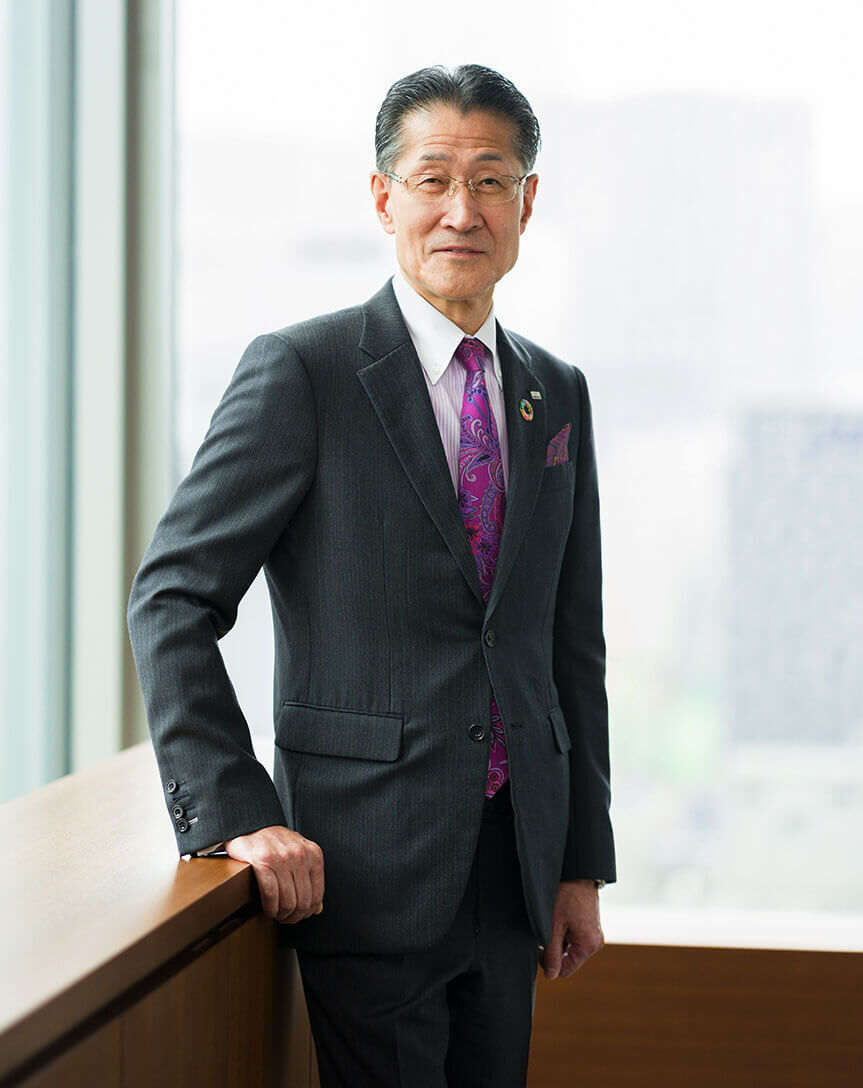 People around the world are beginning to transition toward the goal of building a sustainable society. Coupled with the effects of the pandemic, people's values and lifestyles have drastically changed. In order to elevate a beautiful and enriched way of living in this rapidly changing society, Milbon is driving innovation in the beauty market toward a new era of sustainable society.
In today's world, we have fewer opportunities to go out and interact with people. Even in these times, salons remain a place where people must physically visit on a regular basis, equipped with potential to play a major role as "communities of beauty and soul" and as "platforms for living beautifully" in local communities. What we call "Salon-based Social Innovation" is crafting the new form and function of hair salons to meet the demands of the times.
Milbon has built two major pillars to help realize this innovation.
The first pillar is the Beauty Platform Plan. At the core of this plan is the Smart Salon Strategy, which proposes the concept of the "Smart Salon," a salon space providing a full range of beauty services for an innovative customer experience through the fusion of digital and reality. We will expand Smart Salons across Japan in collaboration with salons that share the same aspiration. Furthermore, the Beauty Life Care Strategy involves the development and rollout of products to help people "to live beautifully" in the three fields of hair care, skin care, and beauty health care. With the aim to pioneer in the industry, Milbon will continue to create innovative platforms for living beautifully by integrating these professional products with digital services such as milbon:iD, which allows customers to make purchases at any time.
The second pillar is our Sustainability Commitment. We are committed to building sustainable cities and communities as part of achieving a sustainable society, through our dedication and support for salons. Needless to say, as a manufacturer, it is of the utmost importance to continue innovations within our own domains. We will also proactively take initiatives to address social issues through all possible measures, such as developing a carbon-neutral production system and responsibly procuring raw materials.
At Milbon, our hope is that people around the world can live beautifully and enrich their lives to the fullest. Beauty is culture itself, rooted deeply in the local community. With that in mind, we are building development and production systems over the medium- to long-term, for and tailored to each of seven regions: Japan, South Korea, Greater China, ASEAN, North America, the EU, and the Middle East. Our mission is to enrich the lives of people in local communities across the globe through our partnership with salons by inspiring them to lead each day beautifully, vibrantly, and confidently.
Find Your Beauty.
This is Milbon's corporate slogan. Milbon will continue to work alongside salons to build a future where people can live beautifully with a sense of enrichment.