M

i

l

b

o

n

E

t

h

i

c

s

a

n

d

C

o

d

e

o

f

C

o

n

d

u

c

t
Business Activities in Strict Legal Compliance
The Milbon Group (including Milbon Co., Ltd. and its consolidated subsidiaries, hereinafter collectively referred to as "Milbon") will act, throughout the value chain, in compliance with laws and regulations of all countries and regions based on high ethical standards that conform with social ethics.
Milbon Ethics and Code of Conduct
The Milbon Ethics and Code of Conduct (hereinafter referred to as "the Code") are the ethics and code of conduct established for each officer and employee working at Milbon worldwide to practice The Milbon Way.
To ensure compliance with the laws and regulations and internal rules of the countries and regions where it operates in its business activities with high ethical standards, Milbon will spread the Code thoroughly within Milbon itself by measures such as improving its internal systems and providing training programs.
Also, Milbon will actively encourage all its business partners to work with understanding of and sympathy with the Code, expecting them to support and practice the Code.
Position of the Code
The Code provides the ethical perspectives for making the right decisions and practicing the right action standards (ethics and code of conduct), and is positioned in The Milbon Way, or Milbon-ism, as the basis of the corporate activities of the Milbon Group that fulfil its social responsibility from the viewpoints of trust from society and legal compliance.
Please consider whether, in light of the Code, your decisions or actions are in line with the law, The Milbon Way, and the internal regulations, and whether you can confidently tell your family about them.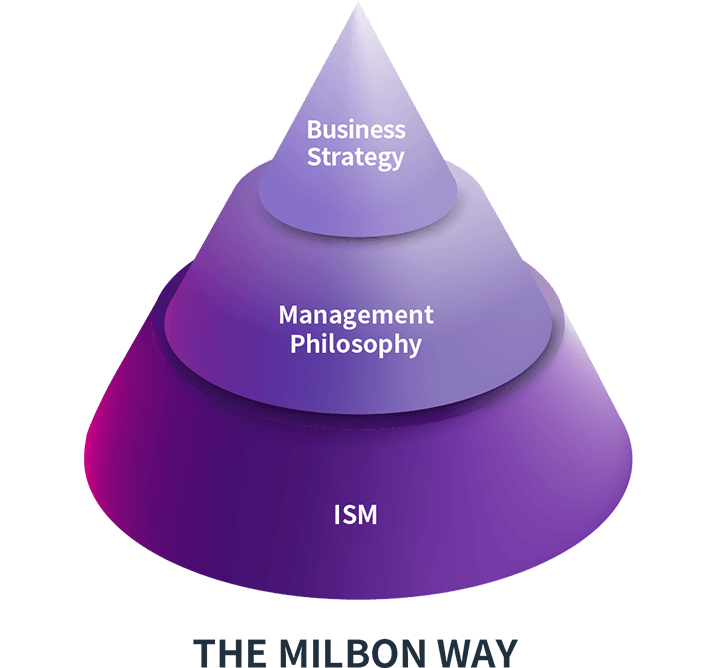 Our Goals

Milbon Person Expectations

"Can Do" Attitude, Leadership, Globally Minded
Our Uniqueness

Business Models


Field Person System, TAC Product Development System
Our Promise to Customers

Corporate Slogan & Statement




Find your beauty.

Our Essential Purpose
Business / Organizational Philosophy

"To focus," "Efficiently Inefficient,"
"The corporation as a living entity"
Action /
Mental Guidelines

To be in the field, to pay attention, to be independent
―is it something Milbon should do?

Milbon Ethics and Code of Conduct

Our Foundation

"We will build a solid company that won't collapse"


―Continuous innovation―
Milbon Global Vision
To become the world's No. 1 professional haircare manufacturer through our dedication and educational support towards local beauty industry across the globe.
Mid-Term Milestone
We aim to become the leading manufacturer in Asia and top 5 in the world by elevating the value of industry professionals in the eyes of consumers and society at large.
Corporate Slogan & Statement
To live beautifully. It's how we approach the world. It's the one, single idea that drives us. Our hair frames our personal beauty—how it's styled, how it feels, how it flows. It sets the stage for the inner self we radiate.
Everyone's hair is unique, and everyone's beauty is, too. Our purpose is to help people find, embrace, and express their individuality—to head out into each day confidently and gracefully, and to live vibrantly.
For more than 50 years, professional stylists have been our partners: we learn from and inspire each other. What unites us is our passion for transforming everything we touch into something beautiful.
Together, we constantly push the boundaries of the global haircare industry.
Together, we help give people the confidence, sophistication, and grace with which they inspire the world.
Management Ideology
Through our action we wish to contribute to the world.
Our way of realizing this goal is through fostering peaceful society by enriching cultures. We believe that we can make the difference by inspiring beauty through hair stylists and their art.
Basic Guideline for Sustainability
Milbon is a signatory to the United Nations Global Compact (UNGC) and has expressed its support for the Compact's mission.
1. Provision of Safe and Superior Products and Services and Gaining of Customer Trust
Milbon will develop and provide safe and professional products and services that will always meet the needs of customers. Milbon will also provide accurate information so that customers can use its products and services safely and securely, and will protect and manage customer information and related data appropriately. In addition, Milbon will work to gain customer trust by carefully considering feedback from customers and responding to it with sincerity.
Milbon gives the highest priority to customers, sustainable economic growth, and manufacturing of high-quality products which are useful for society, with safety as the first priority.
Milbon will appropriately manage and provide accurate information necessary for customers.
Milbon will properly manage and protect personal information provided by customers in conformity with the laws and regulations and internal policies of the respective countries and regions.
2. Contribution to and Coexistence with Local Communities
As a responsible member of society, Milbon will actively participate and cooperate in social contribution activities that contribute to the healthy development and comfortable, safe, and secure life of local communities, aiming for coexistence with those communities.
Milbon will strive to solve social challenges by deepening interactive exchanges with local communities where its business facilities are located and collaborating with local communities in cultural and environmental activities through its business activities, seeking to "foster sustainable cities and communities."
3. Responsibility to the Environment
Milbon will fulfill its responsibility toward the global environment in all processes from product development to procurement of raw materials, manufacture, distribution, sale, and use and disposal by customers, to promote measures for carbon neutrality and recycling in manufacturing and consumption activities.
Milbon will work on reduction of carbon dioxide (CO2) emissions in greenhouse gas (GHG), effective utilization of water resources, waste reduction, and active utilization of recycled materials throughout the value chain to reduce its impact on the global environment and preserve biodiversity.
4. Respect for Human Rights
Milbon understands and respects human rights and will comply with the Milbon Group Human Rights Policy throughout the value chain.
Milbon does not tolerate any form of forced labor, human trafficking, child labor, discrimination or harassment, or any other practice that undermines human dignity.
Milbon values dialogue with its employees and consistently strives to enhance their working conditions and environment. Milbon respects fundamental labor rights, such as the right to associate, the right to bargain collectively, and the right to equal pay for equal work. Milbon is committed to eliminating overwork, complying with the Minimum Wage Act, and ensuring its wages are competitive, providing a living wage that matches or exceeds those of other companies in the same regions and industry.
Where international human rights principles differ from national or regional laws and regulations, Milbon seeks ways to respect these international human rights principles to the greatest extent possible.
Milbon will establish a human rights due diligence mechanism to identify negative impacts on human rights, and will take action to prevent or mitigate these.
5. Fair Transactions and Mutual Development with Business Partners
Milbon will build business relationships in accordance with fair rules and establish relationships of trust with its business partners through smooth communication, seeking mutual development.
When selecting a business partner from among two or more candidates, Milbon will determine the most suitable business partner by comparing and evaluating their terms such as quality, price, delivery date, technological development capability, and steady supply, based on fair and appropriate transaction standards.
Milbon will strive to understand the entire value chain, and will evaluate each other with its business partners to ensure mutual sustainable development.
6. Maintenance of Workplace Environment for Employees
Milbon will ensure fair treatment, respecting the diversity, personality, and individuality of its employees, and will realize a safe workplace environment where each of its employees can continue to work fulfilling their fullest potential.
Milbon will maintain workplaces where its employees can continue to work taking the preservation of mental and physical health and industrial safety and health into consideration with the aim of achieving work-life balance.
Milbon will undertake fair personnel evaluation and career development to encourage its employees to reach their fullest potential at work and promote their growth.
7. Understanding and Support of Shareholders and Investors
Milbon will strive to acquire the understanding and support of all its shareholders and investors based on fair and highly transparent corporate management.
Milbon will disclose financial information such as performance, and non-financial information such as corporate governance, business plans, risk management, and environment/society-related information, in a timely and appropriate manner.
Milbon will never engage in unfair trading practices such as insider trading and conflicts of interest.
8. Sound Relationships with Government and Administration
Milbon will maintain sound and transparent relationships with the government and administration, eliminate any collusion, and act fairly.
Milbon will not provide public employees with entertainment or gifts, or make "facilitation payments," which are payments of small amounts to public employees for the purpose of facilitating prescribed public procedures, with understanding of the National Public Service Ethics Act (the National Public Service Ethics Code), the Penal Code (crime of bribery), and the Unfair Competition Prevention Act of Japan, as well as foreign anti-corruption/bribery regulations.
When making any contributions or political donations, Milbon will comply with the Political Funds Control Act, the Public Offices Election Act, and the Unfair Competition Prevention Act, with understanding of foreign anti-corruption/bribery regulations and in accordance with the standards set forth in its internal regulations.
9. Dealing with Antisocial Forces
Milbon will take a resolute attitude toward, and will not have any relationships with, antisocial forces or groups that pose a threat to social order and security. Milbon will also not be involved with any unreasonable demands from, or provision of benefits to, antisocial forces or groups.
If contacted by antisocial forces, Milbon will not leave it up to the person in charge but will ensure thorough internal management to respond systematically.
Established
December 9, 2022
Revised April 20, 2023
Milbon Co., Ltd
Representative Director, President and CEO
Ryuji Sato


Sustainability Director, Executive Director
Masahiro Murai