Our approach to water resources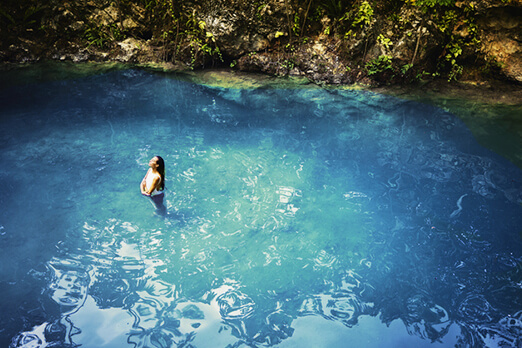 At Milbon, we understand that water plays an integral role in all aspects of our business—from serving as an ingredient in many of our products, including our mainstay haircare products, to being necessary for the rinsing process after customers use our products. Recognizing the importance of water resource conservation, we are committed to gaining a thorough understanding of water stress in each of our business regions. Additionally, we are dedicated to effective water-saving practices, encouraging the reuse of water, and actively advancing water conservation initiatives.
As of 2023, at the Yumegaoka factory, which is the core production base of the Milbon Group where water resources are most used we are monitoring water intake and discharge amounts, investigating water stress in the local area, and promoting conservation activities. Moving forward, we will strive to monitor the intake and discharge amounts of water across the entire group, including production bases of our consolidated subsidiaries and business bases both in Japan and abroad. We will also make efforts to research and consider countermeasures for water stress specific to each location.
Yumegaoka Factory Water Intake and Water Discharge Figures, Stress Study Results
Water intake and discharge data for the Yumegaoka Factory
| Water resources | 2019 | 2020 | 2021 | 2022 |
| --- | --- | --- | --- | --- |
| Water intake by source (Total)(m3) | 41,767 | 40,445 | 47,219 | 50,261 |
| Water from waterworks (Third party water sources)(m3) | 41,767 | 40,445 | 47,219 | 50,261 |
| Water consumption (m3) | 41,767 | 40,445 | 47,219 | 50,261 |
| Water consumption - Intensity (m3/million yen) | 1.374 | 1.354 | 1.404 | 1.247 |
| Water discharge by discharge location (Total) (m3) | 22,406 | 23,454 | 26,214 | 29,992 |
| Sewage (Wastewater to third party) (m3) | 22,406 | 23,454 | 26,214 | 29,992 |
Water stress level at the Yumegaoka Factory
As a result of the water stress survey conducted at the Yumegaoka factory, the stress level has been determined to be "Low*".
Evaluation was performed using the Baseline Water Stress from the Aqueduct Country Ranking.
Efforts to reduce water consumption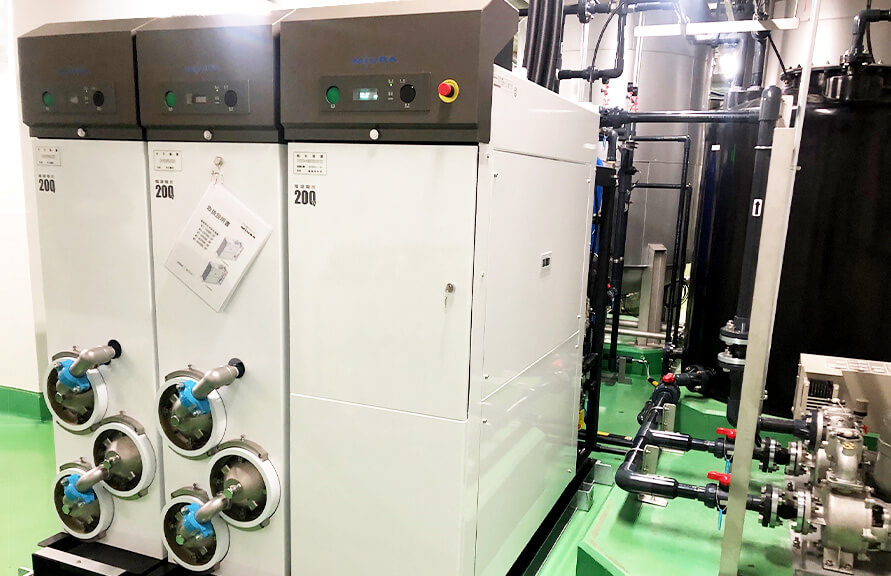 At the Yumegaoka Factory, we installed new pure water devices in 2021 to reduce the factory's environmental impact. The new devices improved pure water reclamation rates by 20%, cutting the amount of pure water used for manufacturing in 2022 by approximately 2,000 m3 compared to the preceding year.
Consideration for wastewater
The Yumegaoka Factory concluded an environmental conservation agreement* with Iga City to prevent pollution and to protect the health and living environments of the local community. A third party organization has been commissioned to analyze monthly water discharge levels and check that they were below defined thresholds. We perform our own daily inspections to check that levels are being kept below the restriction levels. Through these measures, we are ensuring that the water that is discharged into the sewer system meets processing standards equivalent to those required for discharging water into rivers.
Items specified in the environmental conservation agreement
・ Water pollution prevention
・Air pollution prevention
・Odor control
・Noise and vibration prevention
・Appropriate waste processing
Water quality survey of drainage routes
In Iga City, Mie Prefecture, where the Yumegaoka Factory is located, we are conducting water quality surveys of the Kume River and the Kizu River, which are the direct discharge routes for the water used at the factory to reach the ocean, together with the citizens' group, the Network of Fish and Children.
Results from the PACKTEST survey conducted in May 2023 confirmed that the water quality of the Kume River and the Kizu River showed no abnormality in the chemical oxygen demand (COD) measurement.*
Based on the environmental preservation agreement, we will continue to work together with the local community on activities to reduce environmental impact, including this survey.
An index to measure pollution caused by organic compounds present in water