The Milbon Way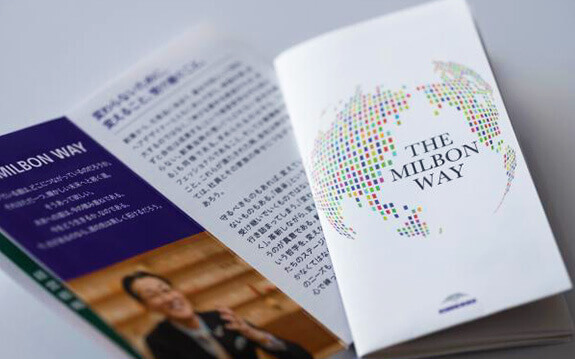 Milbon has created a handbook that clearly sets forth Milbon's unique way: The Milbon Way. This compact, portable handbook succinctly describes "Milbon-ism," our management philosophies, and our management strategies.
The Milbon Way was compiled under the direction of President & CEO Ryuji Sato in 2012 with the theme of "Continuity and Change." It has been revised through the years to keep up with changing times, and is thoroughly permeated among all employees of the Milbon Group.
Structuring The Milbon Way and putting it into words
Under the slogan "everything we do, we do for and with hair professionals," The Milbon Way presents "Milbon-ism," Milbon's management philosophies, and Milbon's management strategies in a structured form, using keywords.
It is organized into a multi-layered structure, where the lower layers represent elements that are more immutable, and the upper layers represent aspects that evolve in response to the changing times and the social environment.
Furthermore, various policies have been explicitly formulated to complement the keywords, serving as decision-making standards in various business processes..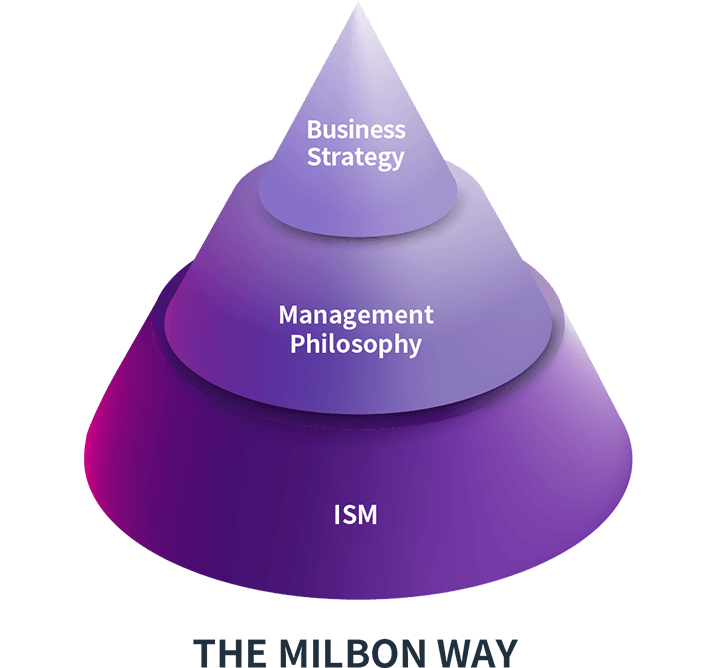 Our Goals

Milbon Person Expectations

"Can Do" Attitude, Leadership, Globally Minded
Our Uniqueness

Business Models


Field Person System, TAC Product Development System
Our Promise to Customers

Corporate Slogan & Statement




Find your beauty.

Our Essential Purpose
Business / Organizational Philosophy

"To focus," "Efficiently Inefficient,"
"The corporation as a living entity"
Action /
Mental Guidelines

To be in the field, to pay attention, to be independent
―is it something Milbon should do?


Milbon Ethics and Code of Conduct

Our Foundation

"We will build a solid company that won't collapse"


―Continuous innovation―
Milbon Global Vision
To become the world's No. 1 professional haircare manufacturer through our dedication and educational support towards local beauty industry across the globe.
Mid-Term Milestone
We aim to become the leading manufacturer in Asia and top 5 in the world by elevating the value of industry professionals in the eyes of consumers and society at large.
Corporate Slogan & Statement
To live beautifully.
It's how we approach the world. It's the one, single idea that drives us.
Our hair frames our personal beauty how it's styled,
how it feels, how it flows. It sets the stage for the inner self we radiate.
Everyone's hair is unique, and everyone's beauty is, too.
Our purpose is to help people find, embrace, and express their individuality to
head out into each day confidently and gracefully, and to live vibrantly.
For more than 50 years, professional stylists have been our partners:
we learn from and inspire each other.
What unites us is our passion for transforming
everything we touch into something beautiful.
Together, we constantly push the boundaries of the global haircare industry.
Together, we help give people the confidence, sophistication, and
grace with which they inspire the world.
Management Ideology
Through our action we wish to contribute to the world.
Our way of realizing this goal is through fostering peaceful society by enriching cultures. We believe that we can make the difference by inspiring beauty through hair stylists and their art.
Basic Guideline for Sustainability
Milbon is a signatory to the United Nations Global Compact (UNGC) and has expressed its support for the Compact's mission.